Microsoft founder Bill Gates has unveiled a futuristic toilet that doesn't need water and uses chemicals to turn human waste into fertiliser. The billionaire philanthropist was speaking at the three-day Reinvented Toilet Expo in Beijing earlier on February. It is the first time the Gates' foundation has addressed an event in China.
MAT Filtration Technologies was shortlisted among the 3 Design Providers to proceed with detailed design, field testing and fabrication. Key points for this selection was MAT's vast experience in biological filtration and animal solids waste management through fishfarm waste management solutions.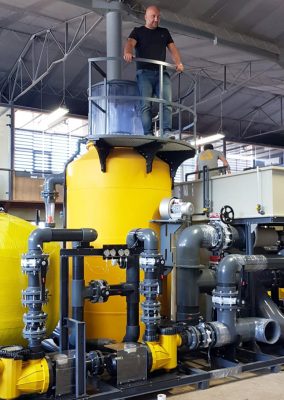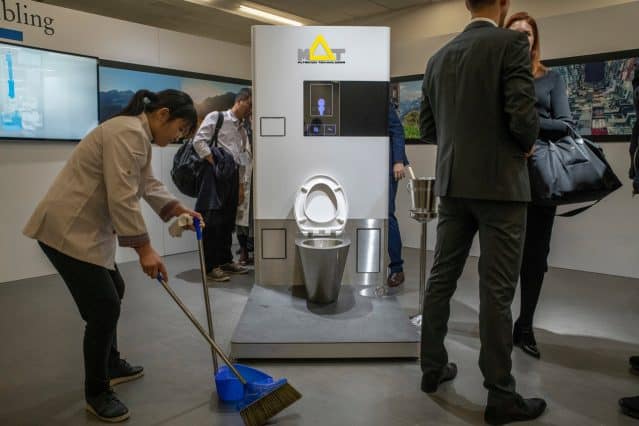 Our Global Sales Director Mr. Vasileios Sklavounos was honored to meet and discuss face to face on behalf of MAT Filtration Technologies with Bill Gates for the multiple solutions MAT can provide to this humanitarian project. It is worth mentioning that the project is funded by the Bill and Melinda Gates Foundation ($200M), and it is ready for sale after years of development and testing.
During the expo Bill Gates held up a clear jar of human faeces to highlight the importance of dealing with the issue. He said:
"It's a good reminder that in (the jar) there could be 200 trillion rotavirus cells, 20 billion Shigella bacteria, and 100,000 parasitic worm eggs."
The former Microsoft chief executive said he expects the market for the toilets to be more than $6bn (£4.5bn) by 2030. His trip comes amid trade tension between China and the United States, the world's two largest economies, which have slapped tit-for-tat tariffs on goods worth billions of dollars.
Contact MAT today (+90) 232 234 24 04 | sales@matglobal.tech to find more about our technology and equipment for fluids biological waste management.
DISCLAIMER
Thank you all for your kind attention to this article, we hope you enjoyed it! We wish this were true but it is just an April fools' joke!